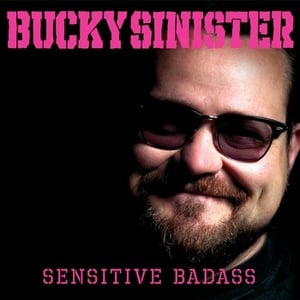 $

20.00
With years of publishing and countless hours doing stand-up, it's an incredible honor to announce Sensitive Badass, Bucky Sinister's debut studio album on Post-Consumer. Culled from his now legendary book All Blacked Out and Nowhere to Go, these high quality recordings showcase all the strengths Sinister has developed in his various artistic pursuits – he has the eyes and ears of a poet, the chops of a seasoned stand-up, the empathy of a self-help author, and the liver of a drunk. He tells the survivor's stories of a life no one should've had to live, as he traces the connecting threads between tragedy and comedy, poetry and punk rock, rage and regret, addiction and enlightenment. But he ain't whinin', he's testifying. And if you're new to Bucky, you'll thank us for the introduction.
Opening track 'Drowning on God's Urine' describes how bad Japanese kids, through twisted divine intervention, end up with drunken Christmas toys that 'know a lot but remember nothing.' Album standout 'Elegy for Old Hunts' explains what happened when the narrator found his own stolen heart for sale in a donut shop that no longer exists. Other revelations include the differences between the religion of a hick and the spirituality of a redneck, the similarities between a mosh pit and a geode, how the dinosaurs really died, and why John Wilkes Booth shot Abe Lincoln. And if all that wasn't enough, the LP closes with Bucky and Batman, roles reversed in 'The Alternate Universe of Bruce Wayne by Bucky Sinister'
Whether you're a 'fugitive and a vagabond' or just a 'new wave disaster,' whether you're looking for a lifeboat or just a few chuckles,Sensitive Badass will fit the bill. If you've lived a life like Bucky's you'll be thankful for an older, funnier friend who understands. If you haven't, well, just be thankful for his hard-won wisdom - he lived it so you don't have to. So get with it, join the club, because to listen to what Bucky Sinister calls 'just this old man's imagination' is to hear a broken heart beat forever strong.
Download a couple of free tracks from SENSITIVE BADASS along with a handful of other goodies from Post-Consumer Records HERE
On virgin pink transparent vinyl for wonderful fidelity.